Blog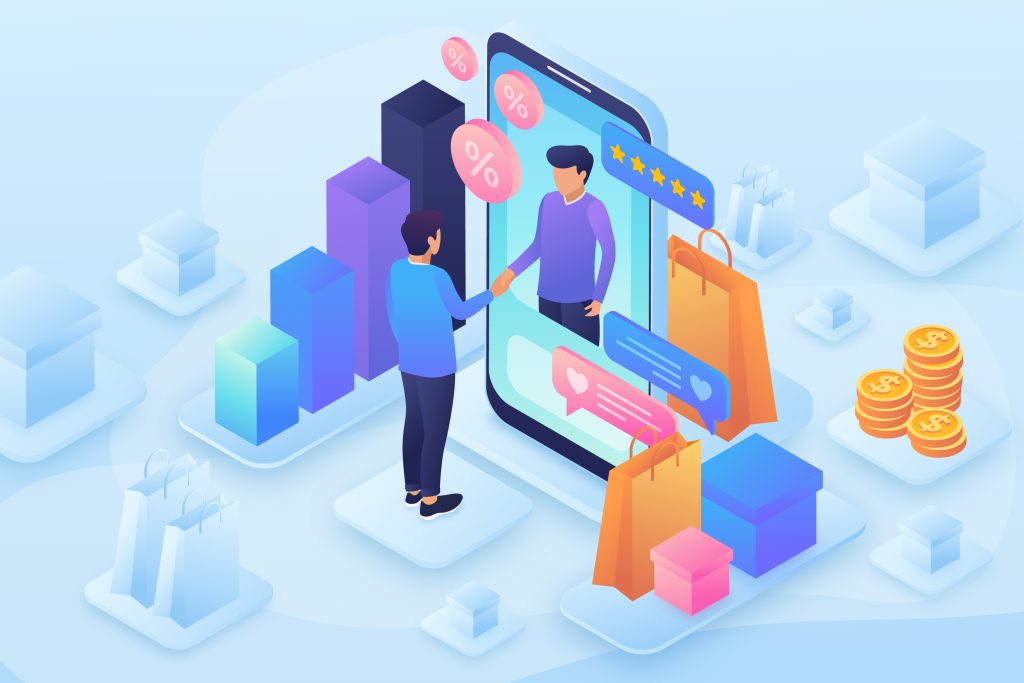 10 Mind-Blowing Stats About Consumer Behaviour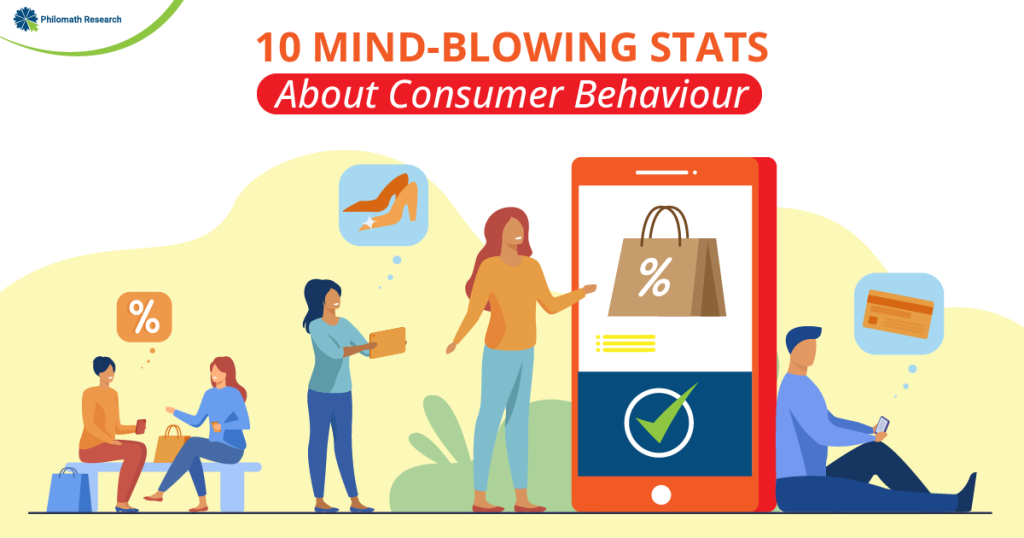 Consumer behavior is evolving at a faster pace than ever before. With new emerging technologies and the rollout of 5G approaching, digital disruption is changing the way consumers purchase products and interact with brands. As consumer expectations continue to rise, it is becoming increasingly difficult for brands to distinguish themselves from their competitors. Markets are increasingly competitive, with pricing and products becoming secondary to customer experience as a brand differentiator.

In today's day and age, if you want to make your business a success, you need to understand how consumers think and behave. In fact, it is no longer enough to just understand them. You also have to know how your business can make them act in a certain way. Here, we have compiled some of the most mind-blowing stats about consumer behaviour for you.
Today's consumers are more demanding – they want to define their own experiences, communicate through the channels they choose, and seek out solutions to problems for themselves. As we head towards the new year, here are ten eye-opening statistics on consumer behavior to inform your marketing strategy for the year ahead.
1. No matter what product or service you're trying to sell, it's important to have a strong online presence. 87% of shoppers now begin product searches online, and on average, Google processes over 40,000 search queries every second. This highlights the importance of SEO and establishing a strong ranking in search engine results. While paid search is an essential part of any digital marketing strategy, maintaining a high ranking in organic search results is vital to brand visibility.
2. 75% of Consumers today expect a consistent experience across every channel, and they will jump from one to another during the multiple touchpoints on the path to purchase. The goal is to bring these multiple touchpoints into a frictionless and personalized experience that engages the consumer – something only a robust omnichannel approach can achieve.
3. Almost everyone has had the experience of waiting on hold for customer service, only to be told that their inquiry will be answered "as soon as possible." We've all been there, and it's not a great feeling. In fact, a study found that 82% of consumers expect an immediate response to sales or marketing questions.
To meet this demand for immediate responses, many companies are investing in AI-driven chatbots and automated messaging. Natural language processing and machine learning make it possible for brands to deliver 24/7 smart conversational experiences to consumers. So the next time you have a question about a product or service, don't be surprised if you find yourself talking to a chatbot instead of a human.
4. 59% of consumers have higher expectations for customer service than they did a year ago, according to a new study. In today's connected digital world, consumers are increasingly demanding of brands and businesses. As new technologies are embraced into the mainstream at an ever-increasing pace and companies utilize data analytics and machine learning to deliver personalized experiences, the bar for customer experience has been lifted, and consumers bring elevated expectations into every touchpoint and interaction.
5. 32% of social media users expect a brand to respond to their questions within 30 minutes. The vast majority of consumers use at least one social media platform regularly. As a natural progression, customers use these channels to contact and interact with companies. Due to the fast-paced nature of these platforms, users expected a prompt reply when they reach out. This is an area of social media where many businesses are struggling to meet consumer demand. An omnichannel approach is crucial to meeting the demands of the modern consumer. Brands need to deliver a fast and consistent experience to consumers across all channels.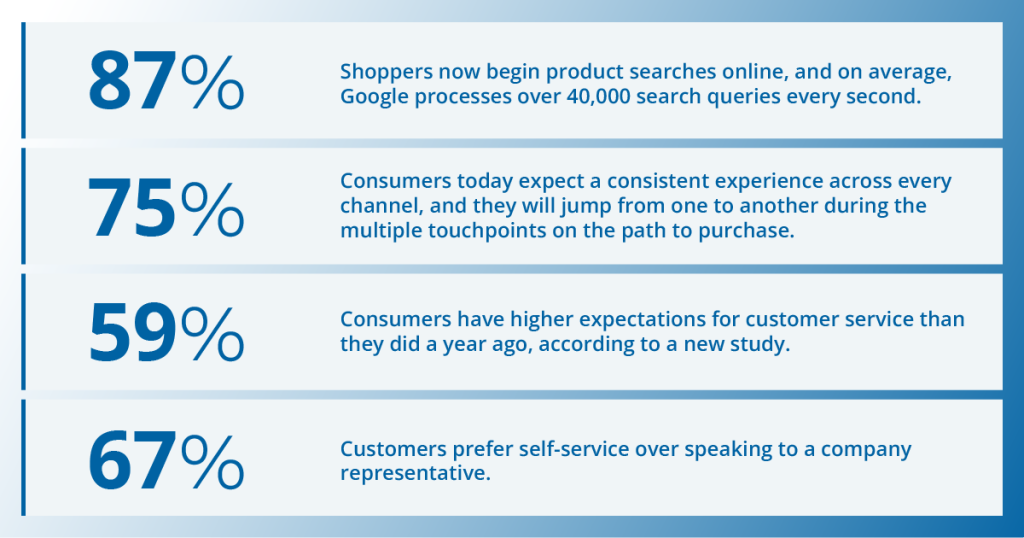 6. 67% of customers prefer self-service over speaking to a company representative. Modern consumers are empowered to define their own experiences, and increasingly prefer to seek out solutions for themselves, rather than reaching out to a salesperson. In reaction to this change in consumer behavior, companies are increasingly turning to AI technologies. In 2018, 25% of all customer interactions were automated through AI technologies. This trend is set to increase, with 90% of companies planning to deploy AI within the next three years. The short term demand is for companies to ensure that the right tools are available to consumers to navigate their way through the buyer's journey. The long-term goal for companies is to be in a position to utilize AI and emerging technologies to exceed consumer demand and deliver remarkable customer experiences.
7. 59% of consumers have used multiple channels to get questions answered. Consumer channel preferences vary considerably according to demographic data and other factors. However, a consistent trend is that consumers are increasingly using multiple channels to interact with companies. This highlights the importance of an omnichannel approach and a data-driven view of the customer to evolve with changing consumer demand. Rather than just millennials, social media is becoming an important customer service channel for every consumer demographic. It's vital to offer consumers a choice of convenient communication channels, delivering a consistent and friction-free experience across every touchpoint.
8. 80% of consumers say the experience a company provides is as important as its products and services. Today's hyper-connected consumers have been empowered by technology, with unrestricted access to information and choice. As a consequence, modern consumers show less loyalty to brands than previous generations. In an age where non-stop innovation means the shelf life of products and services is increasingly smaller, customer experience is becoming the critical differentiator for brands. To succeed in the age of disruption, companies need to be customer-centric, focusing on an agile approach that uses data analytics to deliver remarkable personalized experiences that drive customer loyalty.
9. By 2021, the number of US voice assistant users will reach 122.7 million. Voice User Interfaces (VUI) have become increasingly embraced by consumers over the last few years. People like things to be easy and smart voice assistants are the easiest way for consumers to access information. However, the way people communicate with VUI is different from how they enter a search in text form. This will significantly impact SEO, with companies needing to adapt their SEO strategies for voice search. Despite the growing popularity of voice search, the majority of companies are yet to capitalize on this change in consumer behavior. The companies that are taking advantage of this trend are being rewarded – one study found that voice search eCommerce resulted in $1.8 billion in Amazon revenue in 2017.
10. 51% of smartphone users have purchased from a company other than the one they originally intended to because of the information provided at the moment they needed it. Smartphones have drastically changed the way consumers research, compare, and purchase products. By 2021, it is estimated that 72.7% of the U.S. population will own a smartphone. When a consumer turns to their smart device, they are looking to learn, do, find, or buy something. These micro-moments take place constantly every day. To succeed in today's competitive marketplace, brands need to understand and take advantage of these micro-moments. By making your presence felt at the right moment, you can ensure your brand is addressing the needs of the consumer, progress them to the next stage of the buyer's journey, and increase the loyalty of existing customers.
Marketers have been using consumer behaviour theories to understand behaviour, predict and influence behaviour of customers for a long time now. To be able to do this, they have been doing surveys over time on various aspects of consumer behaviour. The survey includes survey on the purchase behaviour of customers in the recent times.
Customer experience optimization is the process of analyzing the customer journey to identify opportunities for personalization and to create a seamless experience for the customer. CXOs are customer experience leaders who work to improve the customer experience across an organization and are accountable for a customer-centric culture. For more information on how you can reach your customers in the 21st century, contact us at www.philomathresearch.com