Blog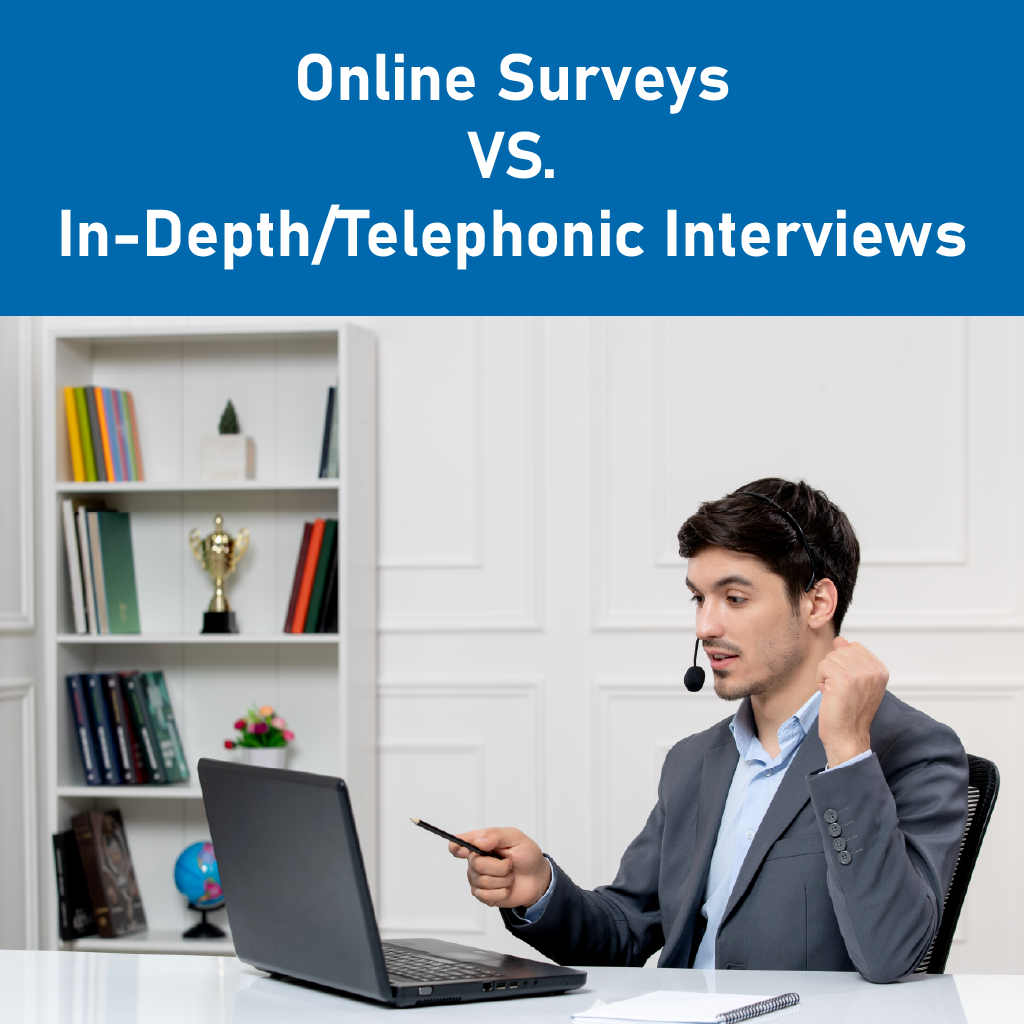 Online Surveys VS. In-Depth/Telephonic Interviews   
Choosing the right methodology for your goals
Whether good, bad or ugly, customer feedback is your ally for growth! Capturing consumer opinions lets you know what's working, what isn't and what needs to change. While there are multiple ways to collect feedback and sentiment such as online surveys or in-depth/telephonic interviews (IDI/TDI), how will you know which approach works for your goals?
With online surveys, you can collect quick inputs from large groups of customers at an affordable cost. However, sometimes, with limited questions comes limited insights! On the other hand, IDI/TDI allow you to deep dive on customers' opinions, but it takes more time and cost to run them.
To choose the right methodology for your research goals, let's start with understanding both approaches and their pros and cons.
IDI/TDI (In-depth or telephonic interviews)
An IDI/TDI is the gathering of a few, selected people (either in-person or via telephone), led by an experienced moderator, to participate in a discussion. They provide you with exploratory rather than conclusive data on a topic of discussion. Their intention is to not only know what your customers think, but why and how they feel that way.
Pros of IDI/TDI
1. IDI/TDI allow you to hear customer opinions in their own words, leading to insightful and valuable customer nuances
2. Due to their interactive and free-flowing nature, new ideas or challenges that are important to customers, is brought to your notice
3. You have the flexibility to deep dive into various sub-topics during your discussion
Cons of IDI/TDI
1. Insights aren't readily available with IDI/TDI. You need to manually assess participants' points of view for further analysis
2. The cost of recruiting respondents, a moderator, renting your discussion facility, compensating participants, travel, planning etc. is very high
3. You must be prepared for skewed results in case there are dominant participants, irrelevant diversions during the discussion, or unqualified participants
Keeping these pros and cons in mind, IDI/TDI could be extremely useful in product testing and consumer profiling studies.
Online surveys
Online surveys allow you to collect data from a large group of people. By circulating a survey to a demographic, you can measure customers' responses to a set of questions (with multiple choice, yes/no, rating scale, open-ended fields etc). Unlike IDI/TDI, surveys aim to give you conclusive data on your selected study topic.
Pros of online surveys
1. You can receive feedback/responses from online surveys very quickly and even put the results together within 24-48 hours
2. Online surveys are also easier on the pocket because there's no additional renting, travel, recruitment costs to account for
3. Because of their somewhat anonymous nature, you can receive more candid or honest responses via online surveys
Cons of online surveys
1. If you wish to ask participants additional questions based on the survey results, you have to account for a separate online survey
2. Because customers only have the option to respond to your survey questions, there's no way for them to proactively provide feedback on their specific concerns
3. It's sometimes difficult to capture customer nuances via online surveys, even when you use open-ended fields
Keeping these pros and cons in mind, online surveys can be extremely useful in market sizing, creative testing and new product development studies.
Choosing the right methodology for your goals
When trying to decide between online surveys or IDI/TDI for your goals, you can start by listing the questions you hope to answer with your chosen approach. The below framework can be helpful when choosing the right methodology for you:
| | | | |
| --- | --- | --- | --- |
| | Online Surveys | IDI/TDI | |
| | Can my research be benefitted by one-way questions? | Is my research looking to add to an exploratory conversation? | |
| | Do I need statistical proof? | Do I need directional guidance? | |
| | Do I need a large sample size to weigh in? | Do I need only a few, selected opinions? | |
| | Do I have a limited amount of time? | Do I have all the time I need? | |
Table 1: Surveys vs. IDI/TDI Framework (boxes are ticked only for representation purposes)
Compare your list of questions with the table above and see which methodology answers your questions best. Chances are – the methodology with the most ticked boxes is the one for you!
At Philomath Research, we speak to our clients extensively to understand their intentions when it comes to capturing feedback. Based on our discussions, we not only recommend the right approach, but also expertly conduct online surveys and IDI/TDI for them.
About Us
We are a leading market research firm recognized for our cutting edge qualitative and quantitative research solutions. Contact us to select the right methodology to fit your research needs.
For more information on our research services and solutions, click here.