Blog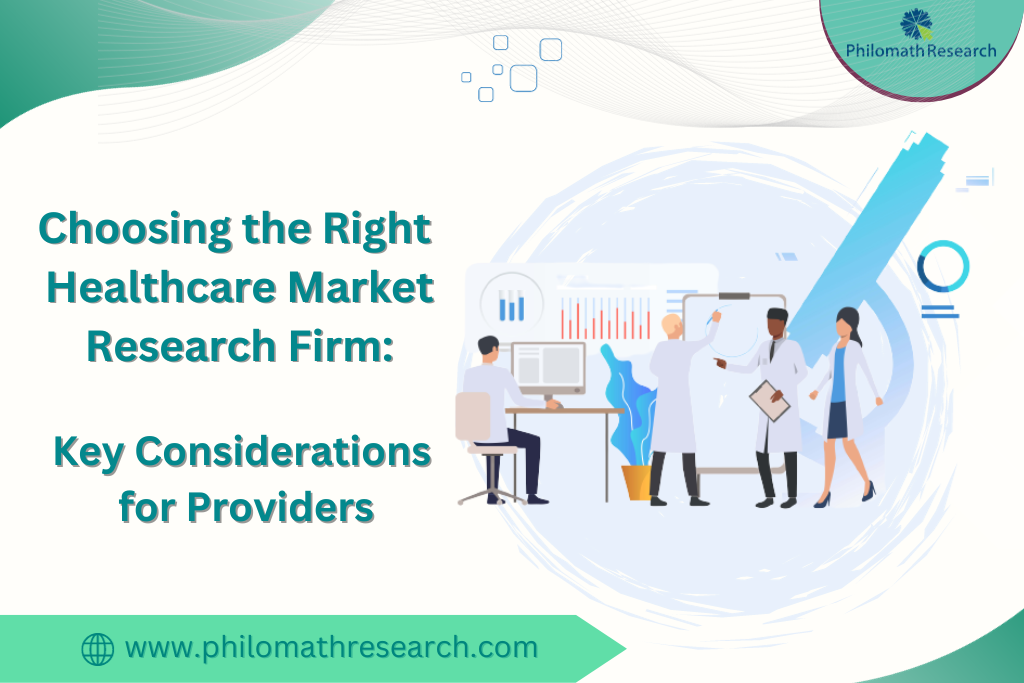 Choosing the Right Healthcare Market Research Firm: Key Considerations for Providers
In an ever-evolving healthcare landscape, providers need reliable market research insights to make informed decisions and stay ahead of the competition. Selecting the right healthcare market research firm is crucial for unlocking actionable insights and achieving organizational goals. With a reputation for excellence, Philomath Research stands out as the best market research firm in the industry. In this blog, we will delve into the key considerations that make Philomath Research the top choice for healthcare providers, highlighting our expertise, comprehensive solutions, and commitment to delivering value.
1. Unparalleled Expertise and Industry Knowledge:
Philomath Research boasts a team of highly skilled researchers and analysts with deep expertise in the healthcare industry. Our professionals have extensive experience and a thorough understanding of the unique dynamics, challenges, and opportunities within the healthcare market. This knowledge allows us to provide invaluable insights that drive strategic decision-making.
2. Comprehensive Solutions Tailored to Healthcare Providers
At Philomath Research, we recognize that each healthcare provider is unique and requires customized research solutions. We offer a wide range of services, including market sizing and forecasting, competitive intelligence, customer segmentation, and product development research. Our team collaborates closely with clients to understand their specific needs and goals, tailoring our research approaches to deliver actionable insights that align with their strategic objectives.
3. Robust Methodologies and Cutting-Edge Technologies:
To ensure the highest quality research outcomes, Philomath Research utilizes robust methodologies and cutting-edge technologies. We employ a combination of primary and secondary research, utilizing surveys, interviews, focus groups, and data analysis techniques. Our team stays updated with the latest research methodologies and technological advancements, leveraging innovative tools and platforms to gather and analyze data effectively.
4. Data-driven Insights and Actionable Recommendations:
At Philomath Research, we go beyond just presenting data – we provide actionable insights and strategic recommendations that empower healthcare providers to make informed decisions. Our research reports are carefully crafted, offering clear and concise findings, supported by robust data analysis. We help our clients interpret the results, identify trends, and develop strategies that drive growth and success.
5. Exceptional Client Service and Partnership:
Philomath Research values strong client relationships and believes in long-term partnerships. We prioritize exceptional client service, ensuring open communication, responsiveness, and collaboration throughout the research process. Our team works closely with clients to understand their unique challenges, goals, and constraints, and we are committed to delivering research solutions that meet their expectations and surpass industry standards.
Conclusion:
In the competitive healthcare market, choosing the right market research firm can make all the difference for providers seeking to thrive and excel. Philomath Research stands out as the best market research firm, offering unparalleled expertise, comprehensive solutions, robust methodologies, data-driven insights, and exceptional client service. We are committed to partnering with healthcare providers to navigate the complexities of the industry, unlock valuable insights, and drive strategic decision-making. Trust in Philomath Research to provide the research expertise you need to stay ahead in the ever-evolving healthcare landscape and embark on a successful journey towards growth and innovation.