Blog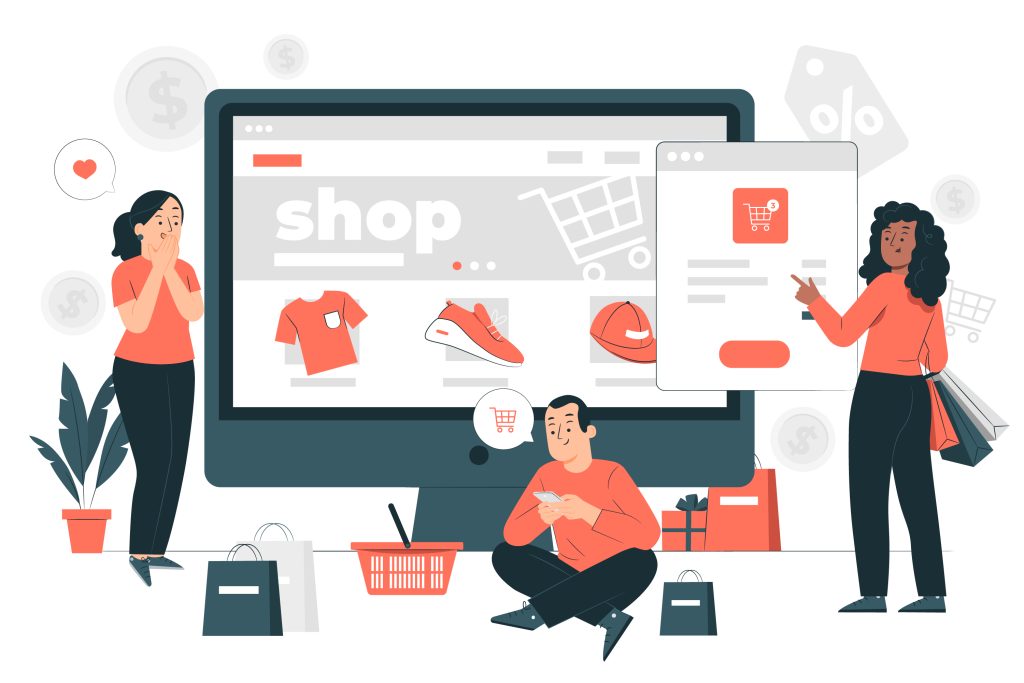 Online Shopping: How Customers See It
The Internet provides many opportunities for people to access information, purchase products, or use services. The convenience of the Internet has led to an increase in its users. The range of shopping options has also expanded beyond traditional methods.
The ubiquity of the internet has created a new level of convenience for customers when shopping by allowing them to access product information and compare prices with ease. Offline shopping methods can be time-consuming and often involve a lot of legwork, but customers are now able to use the internet to quickly find the information they need without having to visit different stores or rely on newsprint circulars. This newfound explosion of online resources has given consumers a new way to shop and has changed the retail landscape forever.
The Internet has become a staple in many households because it offers so many advantages, such as research, communication, online banking, and shopping. With the rapid growth of the internet and e-commerce, new technological advancements will be needed to make sure these transactions are secure.
What is Ecommerce Customer Experience?
Good customer experience (CX) is essential for ecommerce success because it's the customer's perception of their interactions with your business – before, during and after visiting your online store. In other words, CX is the result of every single touchpoint a customer has with your company.
For example, from seeing your Facebook ads to building a cart in your online store: each part of the customer journey contributes to the overall shopping experience. If even one part of the journey is unsuccessful, it could reflect poorly on your business as a whole and result in lost customers.
Three main components make up the customer experience:
Service Experience: The support you offer your customers through different communication channels, e.g. phone, email, chatbots, etc.
Product Experience: The ease of use, quality and effectiveness of your product. Note that in ecommerce, your online shop is often part of the product experience.
Brand Experience: Your brand's interactions and connection with your customers. This includes the marketing, design and emotions your brand creates for your customers.
5 Trends in Online Purchasing Habits
The U.S. Census Bureau released data that in the second quarter of 2022, e-commerce will make up 14.8% of total sales. This is a significant increase from previous years and is only expected to grow larger in the coming years. As an online retailer, it's more important than ever to be aware of consumer interests and tendencies in order to accommodate their needs and boost sales.
A personalized online shopping experience is expected by consumers.
Consumers today expect companies to be aware of their preferences and understand their behavior — and they want brands to take that information into account when they reach out.
A recent consumer survey found that more than 64 percent of respondents said they expected brands and retailers to tailor their communications to them — and more than 52 percent said they got frustrated when they received irrelevant messages. The lack of personalization can have real costs; more than 41 percent said they would be less likely to shop with brands that didn't deliver personalized communications.
Power has shifted to consumers.
Customers have more power than ever, and online retailers must do more to earn and keep their business. Here are some ways today's customers are in control:
With technology at our fingertips, it's become easier than ever for consumers to compare prices and find the best deals for themselves with a few taps on their phone. With so many retail options available at our fingertips, customers can be easily lured away by attractive offers from your competitors. It's important now more than ever to offer loyalty programs and discounts to keep your customers coming back for more.
In this age of social media and online reviews, customers can share their experiences with hundreds or thousands of people online. Customers who have a negative experience can tell the world about it with a bad review. Conversely, they can share their excellent experiences and positive interactions in good customer reviews. This gives other potential customers an insight into what they can expect from the company.
Privacy is important to consumers.
A recent study showed that an overwhelming majority of consumers (76%) want companies to be more transparent about how they use customer data. Additionally, the same study found that 85% of consumers said it's important to know a company's data policies before making a purchase. In fact, nearly half of respondents (46%) said they often or always consider switching to another brand when data policies are unclear or not divulged.
These findings underscore the importance of company transparency when it comes to consumer data. In today's age of digital information, customers are increasingly aware of how their data is used and shared. As such, companies must be upfront about their policies and practices in order to build trust with consumers. Failing to do so could result in lost business and tarnished reputation.
Easy checkout and payment options are important to customers.
On an ecommerce website, you'll want to make it as easy as possible for customers to checkout and pay for their products. So you'll have to have a simple and secure payment gateway for customers to complete their payment. Also, it's important to have easy to understand checkout instructions. Make sure to have a clear and easy return and exchange policy that your customers can understand. Another important feature to your ecommerce website is an easy to use and helpful live chat. It's always better to have a real person answering questions for your customers. Remember to come back to this section and add more detail over time.
Online shoppers place a high value on sustainability.
Today, the most important aspect of a business is being eco-friendly and sustainable. This includes recycling materials and making use of recyclable materials, sustainable power sources and limiting pollution. This is vital to the success of any business in the twenty-first century because it's important that we make sure the planet is still here for generations to come. So many businesses have made their products with sustainable practices in mind, and it will only be a matter of time before all businesses are using eco-friendly practices. You can do your part by using reusable water bottles, bamboo toothbrushes, and reusable hand towels!
Today, online shopping is a common practice, and it has become very popular over the past few years. Online shopping is usually cheaper than in-store shopping, and consumers can browse through a variety of different stores and brands to find exactly what they are looking for. The question is, do customers really care about the online shopping experience? Do they feel like it is a legitimate practice? The answer is yes, most online shoppers have no qualms about purchasing from a website. In fact, the 2001 National Retail Federation found that the number of Internet users who had made a purchase via the Internet increased by almost 12% from 2001 to 2002. The NRF also found that most shoppers (59%) would be willing to buy products or services through their mobile phone. The survey showed that 38% of the respondents would be willing to pay the same price that they would in-store for a product or service, and 12% would pay more.
Investing in market research is essential for keeping up with current market trends and maintaining a competitive edge. Whether you are starting a new business, expanding, or developing new products, conducting market research is essential. It helps you to understand your target market, increase sales, and spearhead business growth.
For more information, reach us at www.philomathresearch.com