Blog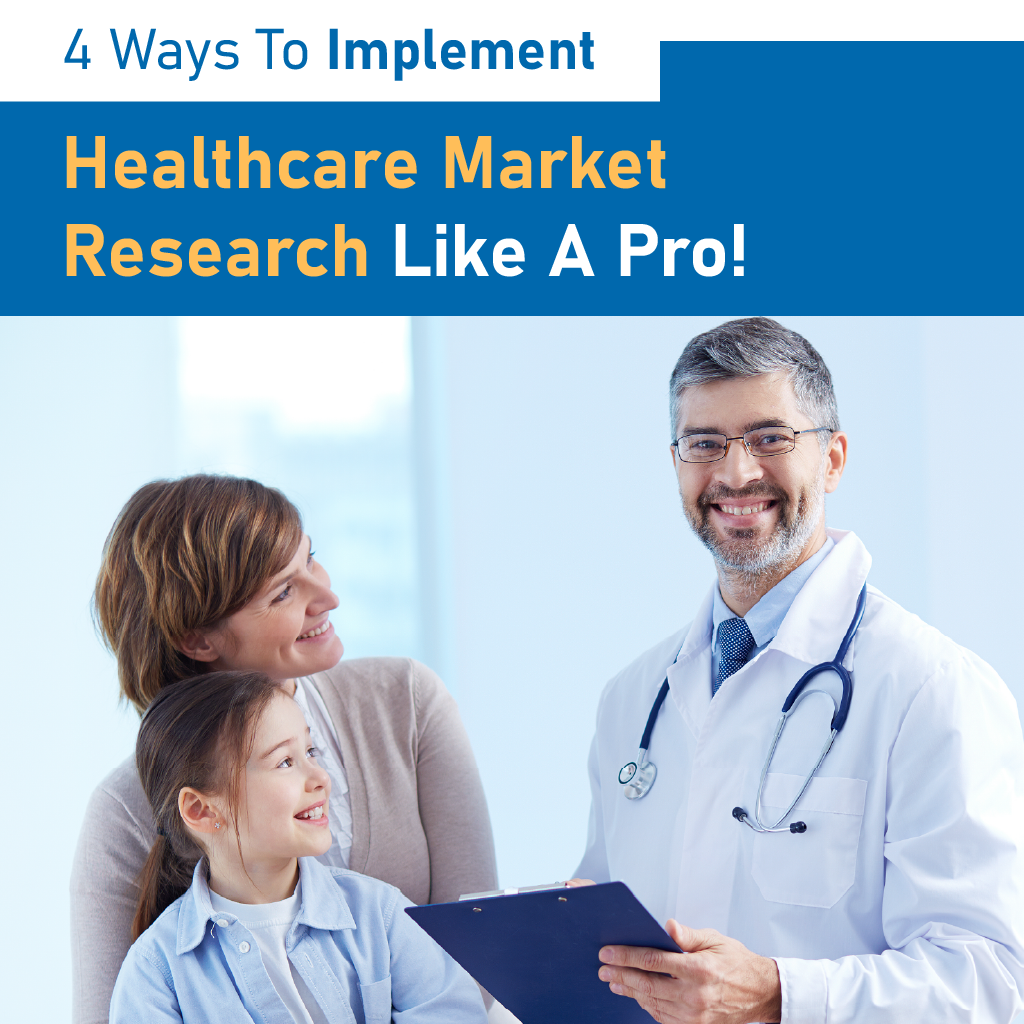 4 Ways To Implement Healthcare Market Research Like A Pro!
To create a path to better health, healthcare market research must be prioritized! Read on to understand what HMR is, why it's important, and 4 ways to Implement Healthcare Market Research like a pro, for the best patient experience!
Our world has been battling a pandemic for months on end. Though the healthcare industry has been overworked, doctors, nurses, hospitals, pharma companies, medical equipment providers and others have focused consistently on providing optimal patient care.
However, in an industry as people-centric as healthcare, it's important to have a deep understanding of patient behavior to improve patient experience . That's why healthcare market research (HMR) is the need of the hour!
What Is HMR?
If your business is looking to deeply understand the needs of the healthcare community to provide better services, HMR is a must! Healthcare Market Research helps you understand the motivations, needs and expectations of patients, healthcare professionals, administrators etc. to provide more effective healthcare overall.
By using qualitative or quantitative research techniques, you can understand your target demographic better, help your business finetune its offerings, provide greater benefits to patients, and even improve patient retention!
Why Conducting HMR Is Important
While healthcare institutions have their patients' best interests at heart, it's often difficult to have a clear understanding of this demographic without proper research. Valuable and actionable data on patients' wants, needs, expectations, preferences etc. can help you chart a strong reputation in your patients' eyes.
What's more, proper healthcare research can even guarantee consistently great patient experiences, attract new patients, generate positive reviews and help you become a household name in the healthcare community.
Pro Tips To keep In Mind!
Now that you know just how important HMR is, you might be thinking about ways to conduct primary research for your target demographic. Before jumping into the various research techniques available, it's essential to keep some information ready.
Having clarity on the following can help you determine the direction and implementation of your HMR technique:
What are your Objectives? (for eg. Understanding how your healthcare product/service will appeal to patients)
Who is your Target Audience? (Are they patients or doctors or a specific demographic etc.)
What is the Current Perception of Your Brand?
What is the Profile of Your Competitors?
What Type of Data are you looking to gather? (for eg. Are you looking for quantitative data like 'A/B testing a product' or qualitative data like 'patient sentiment on a medical procedure'?)
While these are some of the more common questions to address before jumping into research techniques, your specific list of questions will depend on your research topic and situation.
HMR Techniques And How To Apply Them In Healthcare Scenarios
The next step in conducting HMR is determining which methodology will work best for your business' goals and resources. Here are some research techniques that can help you collect great patient data:
1. Online Healthcare Surveys
If you're looking to get maximum responses from a specific demographic in a short period of time, healthcare surveys are the way to go. A quick 3-5 minute survey can help you collect pointed data on your chosen topic, giving clarity on the way forward.
Online surveys can be used for hospital experience feedback, teen health surveys, women's health surveys, patient satisfaction surveys etc.
2. In-Depth Patient Interviews
One-on-one or group interviews are a great way to assess individual behavior either online, in-person or telephonically. By choosing a competent research partner and experienced interviewer, you can gain insightful responses from a smaller target sample every time.
In-depth interviews can be used to evaluate the access of your healthcare services in specific locations or demographics, design lifestyle programs for certain groups of people, improve business operations and more.
3. Ethnographic Studies
If you're looking to collect insights around healthcare trends, product/service usage or patient attitude, ethnographic studies can be extremely beneficial. Conducted in-person or via software, you can map a patient's journey throughout their healthcare experience to assess how they interact with your service, website, employees etc.
Ethnographic studies can help you fine-tune your existing offerings based on your target audience's usage and feedback, or even test new offerings to see how your product/service might perform when it goes live.
4. Healthcare Focus Groups
Leveraging a skilled moderator to guide a discussion, focus groups are a great way to gather in-depth feedback and even brainstorm new ideas. In combination with ethnographic studies, you can get high-quality insights into potential customers' minds.
Focus groups can be useful when you're looking to test new healthcare products/services, build wellness programs, fine-tune your offerings and much more.
At Philomath Research, we have years of healthcare research experience, providing our global clientele with high-quality HMR consistently. With us, you can conduct healthcare market research like a pro!
About Us
We are a leading market research firm recognized for our cutting-edge qualitative and quantitative research solutions. Contact us to know how we can conduct your healthcare market research today.
For more information on our research services and solutions, click here .